LMP USB-C Power Adapter - 96W / 87W - for Macbook Air/Pro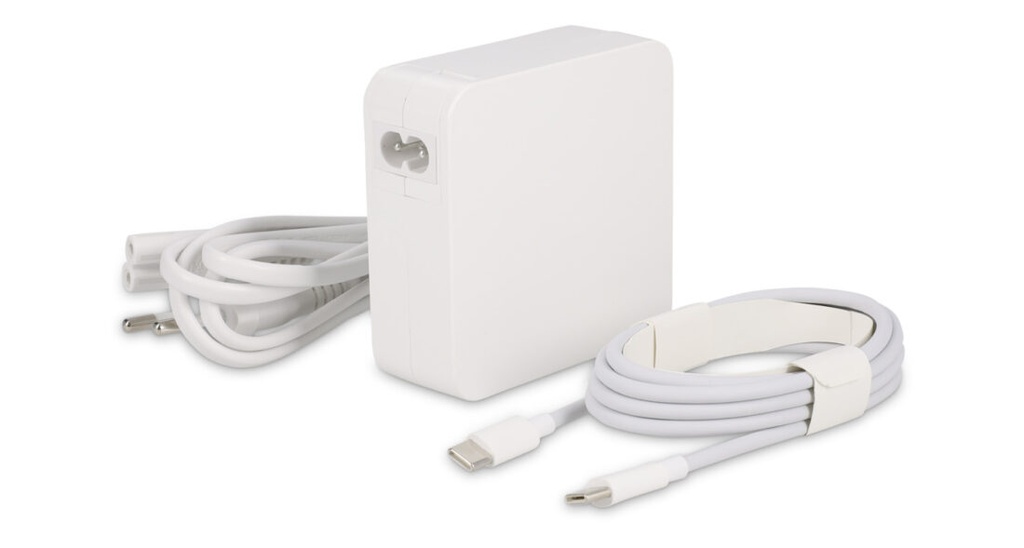 LMP USB-C Power Adapter - 96W / 87W - for Macbook Air/Pro
---
---
The LMP USB-C Power Adapter with a maximum output power of 96 W or 87 W is ideal for charging a notebook via USB-C. It follows the Power Delivery 3.0 charging standard and enables fast and reliable charging.
The USB-C charging cable (1.5 m) as well as the power cord (1.5 m with 2-pin EU plug) are interchangeable, so the power adapter can also be used with Apple's USB-C to MagSafe charging cable.
Extensive safety mechanisms protect the LMP USB-C Power Adapter 96 W / 87 W against overvoltage, overcurrent, overtemperature and short circuit.


Key features
Up to 96 W charging power for any USB-C host
Follows Power Delivery 3.0 rules: 5 V 3 A | 9 V 3 A | 12 V 3 A | 15 V 3 A | 20 V 3.05 A | 20 V 3.35 A | 20 V 4.35 A | 20 V 4.8 A | 96 W (max) for USB-C
1.5 m USB-C charging cable (removable) & 1.5 m AC cable (removable)
DoE+ERP: Level VI
Technical specifications
Connection type
2-prong EU cable, 1.5 m (100-240 V AC, 50/60 Hz)
Charging cable
1x USB-C PD 3.0 (up to 96 W, 1.5 m)
Color
White
Security features
Overcurrent protection
Overheating protection
Overvoltage protection
Short circuits protection
Product dimensions (W x H x D)
8 x 8 x 3 cm
Product weight
262 gr
Package dimensions (W x H x D)
17 x 15.5 x 3.5 cm
Package weight
365 gr
Package content
LMP USB-C Power Adapter 96 W / 87 W
USB-C to USB-C charging cable (1.5 m)
2-prong EU cable, 1.5 m (100-240V AC, 50/60Hz)
Safety instructions