LMP USB-C to DVI Adapter - Silver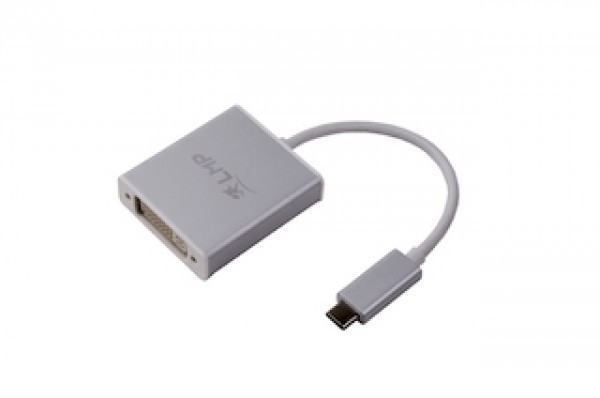 LMP USB-C to DVI Adapter - Silver
---
---
LMP  LMP USB-C to DVI Adapter - Silver
Share your fotos on a big screen with your friends. Play a movie on your Mac and see it in high definition with full audio support on your HDTV. Just connect your USB-C equipped computer with this adapter to any Monitor, HDTV, Projectors, etc. with a DVI interface.

USB-C (using the USB 3.1 bus) to DVI (DVI-D single link) adapter to connect external monitors, projectors, TVs, etc. Compatible to all Mac or PC with USB-C port. Transmits video and audio signal with flexible support for USB 5G and DisplayPort 1.2 (DPAltmode). Supports  DVI with 2.25 Gbps bandwidth per channel (total 6.75 Gbps all channels) and 12 bit per channel deep color (total 36 bit all channels).
Technical Specifications
?
Input port
USB-C 3.1 Type-C male (compatible with Thunderbolt 3 port)
Output port
DVI-D (Single Link) Female
Power supply
USB bus powered
System requirements
Computer with USB-C port
min. OS X 10.10 or Windows 10
Resolutions
1920x1080 (FHD 1080p) @ 50/60 Hz
1600x1200 (UXGA) @ 50/60 Hz
1280x1024 (SXGA) @ 50/60 Hz
1024x768 (XGA) @ 50/60 Hz
800x600 (SVGA) @ 50/60 Hz
640x480 (VGA) @ 50/60 Hz
Compatibility
12" MacBook (MacBook (Retina, 12-inch, Early 2015), 12" MacBook (Retina, 12-inch, Early 2016), 13" MacBook Pro (13-inch, Late 2016, Two Thunderbolt 3 Ports), 13" MacBook Pro (13-inch, Late 2016, Four Thunderbolt 3 Ports), 15" MacBook Pro (15-inch, Late 2016)
Material
Aluminum
Color
Silver
Dimensions
15 cm | 20 gr
Package content
LMP USB-C to DVI adapter